Round Water Drop Fiber pattern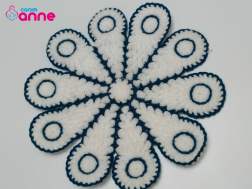 19th January 2022 11:26 am
The water drop round fiber pattern and pattern will be one of the most beautiful patterns that will be included in the pattern fiber patterns of 2022. For the first time, you can add this beautiful pattern that we shared on the canimanne youtube channel to your fiber patterns by knitting it for you.
You can prepare this beautiful and new pattern for patterns . You can create a sales pattern by taking orders. You can also prepare it as a gift and in a team, and you can achieve beautiful results. You can also find many patterns like this on our website.
Water Drop Fiber Pattern
The necessary materials are white fiber rope as the floor and turquoise fiber rope for details. You can develop color options according to your preferences and tastes. We used the number 0 in the video as the crochet number. you can choose the crochet that you want from the number 0-7 and that is prone to decoupage.
If we briefly touch on the design of the pattern, we complete the second row of each piece that we started with 12 peanuts with a single peanut pattern so that water drops form after the pattern. As the second color of each finished slice crosses the edge frame with the rope, we pattern the addition process on the one hand. we also complete the middle part of the fiber, which we have completed in 10 slices, with a round motif consisting of peanuts. You can check out our video for detailed details of the pattern and you can easily knit it by watching it.
You can also be informed about the videos published by subscribing to our channel. Please don't forget to support us by liking and sharing our videos for more. As always; we will be waiting for you in the comments section of the video for any questions, suggestions and requests… Your comments are very valuable to us so we are trying to respond as quickly as possible. We wish it would be easy for all knitting lovers already.