Hello Kitty Backpack Pattern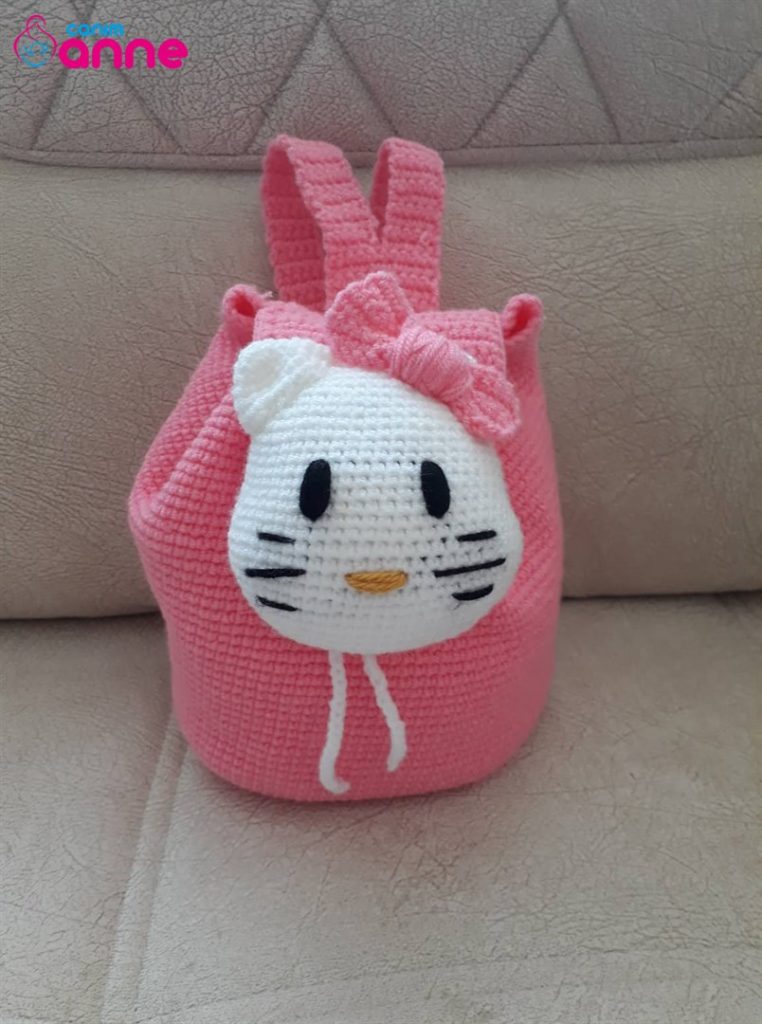 Hello, the most beautiful bag with you in front of the construction. Hello kitty backpack pattern What do you say the most beautiful backpack for little ladies?
The most beautiful model of handbag models I can say here from the hands of health rose to the hands of this stylish bag for us, for girls with bag details are quite important fondly use. You can make a hello kitty bag which you can make cheaper with your manual labor and you can do it easily by watching video narration.
Hello kitty backpack model can choose different color. You can make her fit her clothes. Or you can apply in the same tones. Mothers with daughters recommend that you make this backpack, I like it very much, I want to make friends with friends who want to make the most beautiful days, new video narrative hope to be together again.
Hello Kitty Backpack Pattern
4 Color rope was used.
Baby wool was preferred. You can choose any rope you want.
2.20 mm crochet use, you can choose the prone to your hand prone.
Fiber or bead fiber preference
Let's start the big part of our model, pull the 11 chain and 2 ci chain and often make the needle. Let's do 3 frequent injections to the same place. Then let's make 8 frequent needles to the other side of the chain. The probe is made of 2 frequent needles into a single chain.
2nd row 1 pair, 8 frequent needles, 3 pairs, 8 frequent needles 2 pairs in total reached 28 frequent needles,
3 We're going to double the same frequent needle by increasing the amount of time. We reach 34 frequent needles in total. In 4
1 pair, 2 frequent needles, 1 pair, 10 frequent needles, 1 pair 2 frequent needles (repeat 2 times) 1 pair, 11 frequent needles, 1 pair, 1 frequent needle at this time we reach 40 frequent needles.
This way we are building 40 rows with increments. Then we make the lacing holes and finish this part. We make the hello kitty theme with the hanger part and the closure part and we stitch our bag. You can follow our video for detailed explanation. Good luck with.
Just click on our link for amigurumi, bags and more. We are very happy if you support us with your likes and shares in your social accounts. Your sharing is very important for the continuity of video narration.
Hello Kitty Backpack Pattern video lecture