Crochet colorful baby and children's cardigan pattern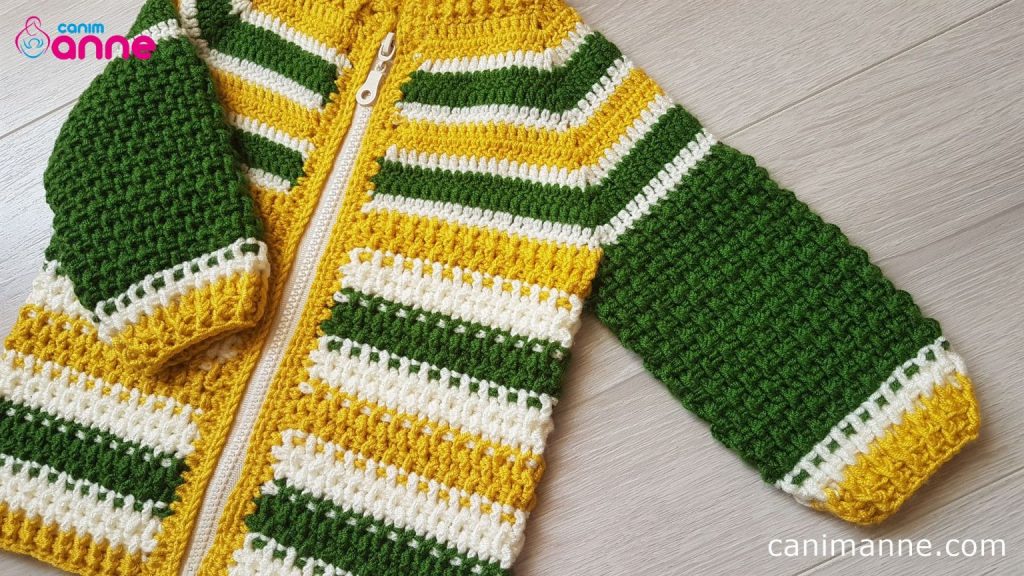 14th January 2022 9:09 am
The colorful children's cardigan pattern is always very suitable for children's braids. Today we have prepared a colorful children's cardigan pattern using 3 colors of rope for you. It turned out to be both useful and very beautiful.
Our pattern, which we have prepared as a start of crochet collar, is compatible with 1 year old. But you can adjust the video to your desired age by watching it aloud. Also please feel free to ask where you hang out. We are trying to help as much as we can.
we used 3 different colors of baby rope when preparing our cardigan. 1 piece of crochet will also be needed that matches your rope. I also used a zipper on the front part. But you can also optionally choose with buttons.
You can find a video description of baby cardigan patterns with many types and techniques on our website. For boys and girls, crochet, tunisian crochet, two skewers , gradient cardigan patterns and many knitting cardigan patterns are available on our site. How about knitting with us during the winter ?
You can also be informed about the videos published by subscribing to our channel. Please don't forget to support us by liking and sharing our videos for more. As always; we will be waiting for you in the comments section of the video for any questions, suggestions and requests… Your comments are very valuable to us so we are trying to respond as quickly as possible. We wish it would be easy for all knitting lovers already.
For much more crochet and narrations like this and this; don't forget to visit our site.