Beautiful Baby Boy Vest Free Pattern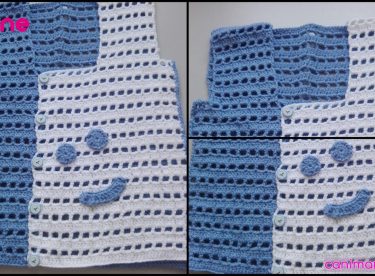 Beautiful baby boy vest pattern free crochet knitting technique for lovers of fashionable and great visual baby vest production we offer to your liking.
Our vest pattern is quite easy for our ladies who want to learn. Video narration will be very useful to you.
For our friends who are looking for a vest pattern for baby boys, our pattern is quite stylish crochet pattern. You can adjust the size using different colors and the number of chains you want. I think there is a pattern suitable for our ladies who will make the first vest.
Wishing to be together again in the construction of the new vest.
Beautiful Baby Boy Vest Free Pattern
Two color rope was preferred.
You can choose the desired rope and crochet.
Let's start with the narrow front construction.
Handrail technique was applied.
30 and 48 chains in front
75 chains are used in the rear.
First, 33 chains on each chain by pulling a double railing. Let's make a total of 5 chains and leave two gaps between them and make a double railing. Back and fronts are made with the same technique. If you like our model you can do by watching the video narration. I'm forwarding my wishes to our friends who will make it easy.
You can be aware of the videos published by subscribing to our channel friends for the continuation of our videos, please do not forget to support by sharing, as always, you will be waiting for all kinds of questions, comments and suggestions in the comments part of the video comments are very valuable for us so we are trying to respond to all knitting lovers make it easy now.
Don't forget to click on our link for crochet, baby vest making and more.
Beautiful Baby Boy Vest Free Pattern VİDEO